About Us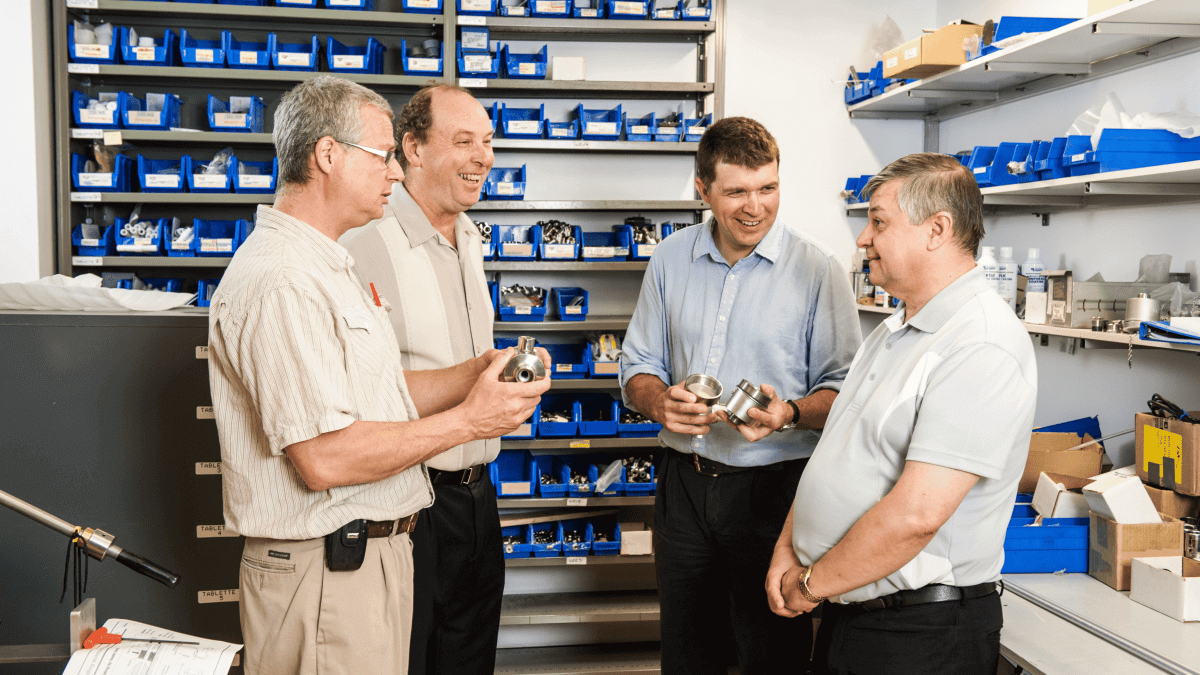 Marc, Intempco's Technical Support Manager; John Lojen, Intempco's President; Denis, Intempco's Electronics Engineer, join forces with Bill, Distributor for Cancoppas, to deliver innovative instrumentation solutions for our clients.
High Quality Instrumentation All Made In House
At Intempco, we focus on bringing you the highest-quality instrumentation devices. But there's more to us than that.
Our president, John Lojen, founded Intempco over 30 years ago in Montreal, Canada. We first hit the industrial market by manufacturing temperature sensors, including thermocouples and RTDs. Our team's continuous research and development eventually brought new instrumentation products to our inventory.
Intempco specializes in temperature, level, and humidity sensors & instrumentation devices. Today, Intempco has clients and distributors worldwide—including Canada, the USA, South America, and Asia.
A prime example is our most recent patented line of MIST Temperature Sensors. These sensors combine a conventional RTD and transmitter into one unit. This best-selling temperature design provides increased accuracy, a reprogrammable transmitter, and a compact design.
Intempco's Company Values
At Intempco, we are passionate about the communities in which we live and work. Ethical practices and environmental stewardship are priorities for any business, and we ensure these values are reflected in everything we do.
Our products are designed and manufactured in Intempco's Canadian headquarters by highly trained employees, including electrical engineers and highly-skilled technicians. By partnering with us, you know you're getting a superior product made by people who care about your business as much as they do their own.
We also take pride in being environmentally conscious. Our manufacturing processes are environmentally friendly, and recycling leftover materials makes a good company great.
Finally, innovation is key to our success at Intempco. We constantly strive to exceed our customers' expectations—innovation is the best way to keep doing that! This is how our innovative MIST line came to be - which pioneered 2 in 1 microprocessors integrated with transmitter. We do this all in house with the help of research and development teams of some of the most talented minds in their respective fields. Our teamwork and expertise keep us on top of the latest temperature, humidity, and level measurement fields.
Your Instrumentation Partner for Success
We're all about helping your business succeed. That's why we offer various services to make things easier for you.
Build Your Own Part Number: Most of our products & sensors are entirely configurable to suit your application needs. 
After-Sale Support: The Intempco team will guide you through the installation and support you even after-sale. We also have technical documents and videos to help inform you.
Manufacturer's Warranty: All products manufactured by Intempco have a one-year limited warranty, and our incredible team of qualified in-house technicians performs repairs.
We have spent many years developing relationships with suppliers to provide you with top-quality instruments at the right price. Our dedicated team is here to help you meet your business needs. For inquiries, please visit our contact page, or email us your questions at This email address is being protected from spambots. You need JavaScript enabled to view it..
Solutions To Meet Your Specific Needs
We offer several ways to make your ordering experience as easy as possible. Here's a quick look at purchasing options on the website:
And quickly… let's talk about quantity discounts & pricing. Up to 30% quantity discount—This email address is being protected from spambots. You need JavaScript enabled to view it. for any pricing questions.
High Quality Instrumentation For Various Industries
Instrumentation & sensors are essential in many industries, including energy, pharmaceuticals, food & beverage, HVAC, and industrial automation. Meeting stringent hygienic standards is essential for specific industries, such as pharmaceuticals or food & beverage. That's why we have over 35+ 3-A qualified sanitary temperature sensors. We understand that different industries require different instrumentation needs. This is why Intempco manufacturers and develops various products to suit different industries' unique applications. On top of that, we give our clients the ability to build your own part number to configure our products to specific application requirements. 
Our instrumentation products are available in various configurations, including handheld units, bench-top models, and custom systems that can be tailored to your specific requirements. Our sizes vary from big to small, but our products are always robust and made from the best material. Explore our different product lines below: